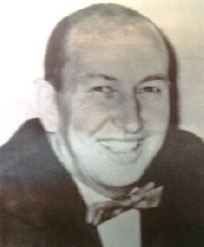 Gene (Genie Bo) Cribb
Inducted 1993
Genie Bo began his sports careet at Mary Street Park in Waycrocss like many of the young boys of his era. He was active on the local sports scene from the late 30's thru the mid- 60's.
A high school football and baseball star, he quarterbacked the 1942 Bulldogs who lost the SGFA Championship game to Albany 7-0. While in high school, he was coached by Marshall O'Rear, Wrigt Bazemore, Vassa Cate and Hack Wilson.
After high school, he entered the military where he continue to play football and baseball prior to serving with the 2nd Infantry Division in Europe during World War II.
After the war, he played football for South Georgia College at Douglas in 1946, he left college to get married and embarked on a long and successful career in semi-pro baseball with the Waycross Red Sox and in fast pitch softball with Sweat's Grocery and Nuway Cleaners teams in the City Recreation League.
With the advent of the Waycross Officials Association, he became affiliated with them and refereed football and basketball games for about 15 years.
Displaying even further his sporting talents, he coached the Southern Bell Ladies Basketball Team from 54 thru 59 in the City Recreation League.
A plant superintendent for Air Reduction Inc., he was also a fraternal leader serving the Masons and Elks in various capacities. He was Past Exalted Ruler and former Grand District Deputy while a member of the Elks.
A fierce competitor, Genie Bo loved sports and always played to win. He often said, "losing was for the other team", but he was a good loser.
Genie Bo died on November 27, 1981. He was married to Connie Youmans Cribb. They had two children, a son Ernie (deceased) and a daughter, Tina.