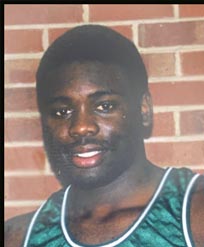 Gary Franklin
Inducted 2020
The shine had not yet faded from the sparkling brand new Ware County High School (the consolidated school that opened in the mid-1990s merging the old Waycross High and Ware High) when Coach E.B. Price's basketball team christened its athletic program with a 25-win season. Leading the charge was a human scoringrebounding machine named Gary Franklin.
Two times an All-State star, Franklin scored more than 1,000 varsity points and picked off over 800 rebounds while at Ware County. "Ain't nobody ever done that," said a Gary Franklin proponent during one debate over who was the king of the hill among E.B. Price's best ever players.
Franklin had other talented teammates in the cast contributing to the Gator team that made an Elite Eight playoff run when he was a senior. But clearly without Franklin's 27 points per game and 12 rebounds per game, Ware would not have advanced to that lofty rung in the state tournament. Those stats still hold as the best in the history of the school. His Ware single game high of 45 points also still stands as best in the Gator record book. He scorched the nets for 28 points in an important win as Ware knocked off the state's No. 1 team, Valdosta.
Franklin's production earned him accolades befitting such achievement. He was a McDonald's All-American nominee. For the second consecutive year, he made the All-State team in Class AAAA. After his 11th grade and 12th grade seasons he was crowned the Region 1-AAAA Player of the Year. Franklin was twice the Waycross Journal-Herald Big 15 All-Okefenokee Area Player of the Year.
Moving on to college, Franklin's impressive play continued. At Fort Scott Community College in Kansas, he scored over 1,000 points in two years, averaging 16.4 points a game and eight rebounds as a freshman and 21 points and six boards per outing as a sophomore. His single-game scoring peak was 37. An All-Conference first-teamer, Franklin left Fort Scott as its all-time career scoring leader.
At his next stop at the Indiana University of Pennsylvania, Franklin helped his new team to a conference championship. Bucketing 35 points in one particular game, he poured in more than 600 points in his two-season IUP career.
Franklin returned to his hometown, where he is enjoying a professional occupational career in the employ of the City of Waycross.