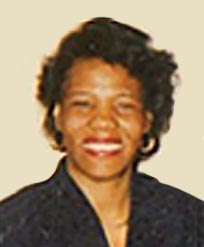 Gale Baker McNair
Inducted 2023
Gale Baker was an amazing basketball talent at Waycross High School receiving her high school diploma in 1971. As talented as she was on the basketball court, she also found fame on the tennis court. At WHS, Gale played for legendary basketball coach William "Bill" Gowan and the great Bulldog tennis teams coached by Melba Williams. Baker learned to play basketball early in life as she had three sisters who were elite basketball players themselves. Whether in recreation league play or in a neighborhood pick-up game competing against her sisters Renarda, Pam, and twin Dale prepared her well. All four were to make their mark in high school basketball and move on to play at the next level. Gale learned from the best and became one of the best.
What exactly was it that separated Gale from the competition? Aggressive, speedy, scrappy, and well-known for her offensive scoring, Baker ended many games as the high scorer for the Lady Bulldogs. Her coaches claimed it was her fierce determination, discipline, and laser focus that separated her from others. She was a wizard with the ball offering up assist after assist. But it was her outside shot that brought the crowd to their feet as the swishing sound of the net echoed across the Doghouse. Baker could just flat-out shoot the ball. Baker's shooting together with her ball handling landed her the Best Offensive Player Award her senior season. It also earned her a college scholarship at a time when women scholarship opportunities were at a minimum.
Baker received a basketball grant-in-aid to Middle Georgia Junior College where she played both basketball and tennis. She often led the team in assists and scoring. Senior colleges began to take note of this amazing guard, and many came calling after her graduation from MGJC. But it was Georgia College in Milledgeville that landed her on a full scholarship to play her final two years of basketball for the Bobcats. Always the team player, Baker ended her college playing career often logging double-digit performances in scoring and assists.
Baker's skills in the classroom prepared her for life after basketball. After earning a B.S. in Recreation in 1976, she became Director of Recreation in Statesboro Recreation where she oversaw the construction of the Blitch Street Recreation Center, supervising many opportunities for area disadvantaged children. Baker became a paralegal for Georgia Legal Services fulfilling her dream of becoming a legal advocate for the underserved. She later embarked on a federal career as Director of Youth Services at Fort McPherson and Fort Gilliam. Gale also worked as Comptroller at Robins Air Force Base in Warner Robbins. She retired in 2012 after 25 years of service, concluding a distinguished federal civil service career winning many civilian awards along the way.
Gale Baker McNair passed away on December 22, 2014. She is survived by her husband Willie Frank McNair, Sr, and children Sharanda Maddox, Willie Frank McNair Jr, Jasmine Chavira, Rebekah McNair, and Joshua McNair, and 13 grandchildren.