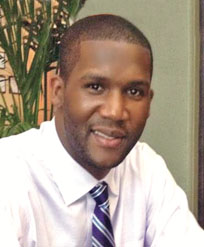 Fred Gibson
Inducted 2015
Arguably the top lineman and running back in school history, Rusty Ganas and Tim McCray were both in inducted in 1991. Tonight, the man most would agree is the top wide receiver ever at Ware County High, Fred Gibson, enters the hall of fame.
Leading the Gators of Coach Dan Ragle to the state playoffs in 1999 and 2000, Gibson hauled in passes in Ragle's prolific offense for a two-year total of 2,482 yards and 31 touchdowns.
A case might certainly be made that he also is one of the top few of Ware's greatest basketball talents ever. He was a man among boys on the court in high school. All- state twice in high school in football and basketball, Fred also was regional Player of the Year in both.
Gibson was a star at the University of Georgia in Athens in both sports during his freshman year, then concentrated on the football Dawgs of Mark Richt only for the next three. He is one of the top two receivers in Georgia Bulldog history, second only to Terrence Edwards in career receiving yards. He caught passes at UGA to total 2,884 yards. Gibson chalked up 209 receiving yards in a 2001 win over Kentucky, a Bulldog record which stood for 13 years.
Like McCray and Ganas, Fred Gibson played professionally as well, although his career in the National Football League was brief. He was associated with five NFL teams in three years. He also flirted briefly with the National Basketball Association at the D-League level.
In January, Fred began a career with Coca-Cola in Atlanta.