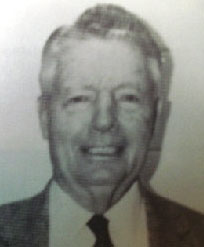 Ellis B. (Brownie) McNeal Sr.
Inducted 1996
He earned 13 letters in three years playing in an era when freshmen (8th grade then) did not receive varsity letters. Five of those letters came in his senior year and he is most likely the first five letter athlete in Waycross High School History.
Brownie earned three letters in baseball, basketball, track and tennis and had one in football.
Being left handed, he was well suited to play first base on the diamond. He actually played four years of baseball but because the 8th grade was Jr. High School, he did not get a letter that year.
Difficult as it was in the spring, he managed to juggle his schedule enough to find time for track and baseball. His best event in track was the high jump.
An award winning cager, he played running guard for three years. His coach the last two years was Wright Bazemore. Coach Bazemore remained a life long friend.
A shelf full of trophies attest to Brownie's skill as a tennis luminary. He was the 8th District singles champion for two years. He teamed with another southpaw (Jim Winkenwerder) to form a very capable and unique doubles team.
Because of his love of hunting and fishing, he spent his autumns in the outdoors instead of on the gridiron until Coach Bazemore convinced him to come out his senior year. Little was expected from a team that returned only three regulars from the preceding year. Yet, they fashioned a successful 6-3-1 season which included a stunning 6-0 victory over Valdosta at Cleveland Field. Brownie threw a touchdown pass to the late A.C. Harvey in the first quarter for the only score of the game.
After a stint in the military during WW II, he returned home to become a successful entrepreneur. He continued his involvement with sports, playing Recreational League and semi-pro baseball and basketball for several years. He remained an avid hunter, fisherman and tennis player up to his middle 80's.
Brownie has been married to Wilda (Bill) Bennettt of Blackshear since 1947. Their children, all athletes, are Maxine McNeal Higginson, Ellis B. McNeal, Jr., Bennett Mc Neal and David McNeal.
The McNeal family is part of a very small group of third generation football players at Waycross High School. Their senior years were; Brownie 1939; Ellis 1967; Dax 1989. Dax is Ellis' son.