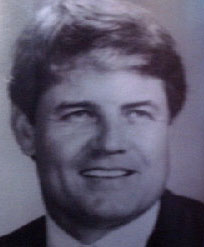 Edwin Pope
Inducted 1999
Ware County High School was opened in the fall of 1958. Edwin was a member of the first graduating class to go all four years at that facility (1958-1962). A member of the Beta Club he was a senior Superlative and voted Most Handsome male in the senior class.
He was an integral part of the Gator teams who won back-to-back region titles in 1960-1961. The 61 club also won the South Georgia Championship in Class A before succumbing to the powerful Carrollton Trojans in the State Championship game.
Edwin was a two-way performer. A super halfback, he was also a true triple threat as he could punt, pass as well as run the ball. He led the team in yards gained and scoring his senior year. Just as adept on defense, he was a staunch defender as a linebacker.
Chosen to the All-Region and All-State teams in 1961, he and teammate Lankford Lee both signed grant-in-aids to Florida State after that successful year.
Edwin played with distinction for four years at Florida State (1962-1966). On three occasions he was honored as "Player of the Week" and also won the "Head Hunter Award" three times. He played in the Gator Bowl in 1965 and the Sun bowl in 1966. His play was instrumental in the Seminoles earning those bowl berths.
After college, Edwin was a teacher, coach, and assistant principal from 1967-1984 at Ware County, Charlton County and Pierce County winning "Defensive Coach of the Year" award one season.
Since 1985, he has been Supt. of Schools in Pierce County, Ass't Supt. In Long County and Supt. Of schools in Telfair County. Edwin received his Bachelor's degree in 1966, Master's degrees in 1979 and 1982, his 6 year certificate in 1985 and a Doctorate in 1987.
Seldom do we have teammates inducted simultaneously but Edwin joined John Allen Howard in that rare accomplishment in March of 1999. He also joins another Florida State alumnus in the Hall of Fame, Gene McDowell who was inducted in 1990.
Edwin is the son of Sam and Ella Mae Pope. He has two daughters.