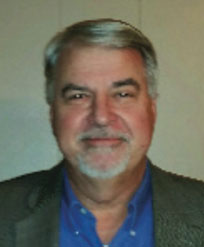 Edwin Lastinger
Inducted 2016
An All-State football player and team captain for the 1976 Bruce Bennett-coached Ware County Gators, Edwin Lastinger played in some of the biggest games in the history of the Green, White and Gold.
A senior in '76, he led the rushing attack with 125 yards on 21 carries as Ware beat Waycross High for the rst time ever 17-14. Weeks later for the Region 1-AA championship against top-ranked Coffee, Lastinger and his mates avenged a regular season loss by coming back from a 20-7 halftime de cit to win 21-20. The Gators went on to the semifinals of the state playoffs where they lost to Woodard Academy.
The senior was named No. 5 among the Top 11 Athletes in South Georgia, All- Region and All-State after leading Ware in rushing with 968 yards on 151 carries. He scored 13 touchdowns. During his junior and senior years at Ware, Lastinger rushed for 1,611 yards on 278 carries.
He was selected to play in the Georgia Athletic Coaches Association North-South All-Star game starting at fullback for the South squad.
Lastinger also lettered in track and baseball while attending Ware County.
He continued his career on scholarship at Maryville College, Maryville, Tenn. He was an outstanding defensive back playing cornerback and strong safety, and was selected the Freshman Defensive Player of the Year in 1978 for the Maryville Scots.
A veteran of the United States Marine Corps, he has worked in the human resources eld for over 30 years. He is married to the former Tonya Gay and recently returned to the Waycross-Ware County area in 2014.