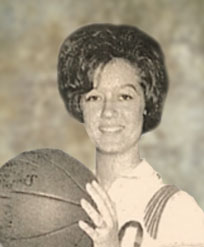 Edie "Peanut" Spence Palmer
Inducted 2018
Rarely in southeast Georgia has there been a long range sharp-shooting basket- ball legend the caliber of Peanut Spence, one of the stars of the 1964 Ware County High state champion Gatorettes. As a high school freshman in 1963-64, she joined three teammates on the All-State team.
Today Edie "Peanut" Spence Palmer lives in Jacksonville, FL with husband Roger. Peanut, the daughter of the late John and Josephine Spence of Waresboro, came from a family of athletes.
At Ware County High School, had there been a three-point line in the 1960s, she would have put the record book in a deeper orbit. Standing well beyond the top of the foul circle, she would cradle the ball as she took dead-eye aim. Then came her two-handed set shot followed usually by a "SWISH" of the net.
On the night of January 7, 1966 in Blackshear, the 11th-grader could hardly miss. Peanut scored 47 as Ware claimed a 86-59 win over the Blackshear Tigerettes. Thirteen months later and now a senior, Peanut led WCHS to a 56-43 tournament win over Waycross. She matched the Waycross team's point total of 43 by herself. In the brand new Waycross High Central Avenue gym, Peanut was 17 of 19 from the field and 9 of 10 from the free throw stripe.
She furthered her education at Andrew Junior College, Jacksonville University and the University of North Florida, where she earned a Master's Degree in Elementary Education. She has been a mission- ary, a teacher, a mentor and an advocate for children and adults alike. Living in Spain for six years, she taught English as a second language. She has taught students with learning disabilities in Yulee, FL and served as a tutor in intercity after-school programs in Jacksonville. She volunteers weekly at Baptist Medical Center in Jacksonville.
Roger and Edie Palmer worship at First Presbyterian Church while daughter Alicia lives in Vermont with her family and daughter. Carmen's family resides in Atlanta. Says the honoree: "I have five 'perfect' grandchildren, who call me Peanut!"