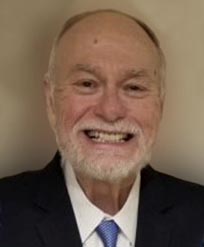 Ed Flowers
Beacon of Light Award 2023
The award was established to honor a local individual who emulated the traits of the late Rev. F.J. Beverly who served this community as a minister of the Gospel. He also served in the Hall of Fame as its Chaplin. It is expected the recipient of this award reflects the qualities evident in F.J.'s life, his faith, character, civic participation, community service, humor, and friendliness.
The year's selection is Ed Flowers. He grew up in nearby Brooks County. After graduating in 1971, he earned a B.S. in Middle Childhood Education and an M.A. in History from Valdosta State University.
This prepared him for a lifetime commitment to young people and teaching. Ed spent most of his professional career teaching in Ware. Before his retirement in 2013, Ed taught for several years at Center Junior High but devoted some 16 years to teaching at Ware Middle. He taught part-time at Waycross College/South Georgia State College as an Adjunct Instructor of History (1996-2014). Since 2018 he has been on the Coastal Pines Technical College staff as an Adjunct Instructor of History.
Flowers has earned many education awards including Kappa Delta Pi International Honor Society Inductee 2005; Chamber of Commerce Katherine Foss Excellence in Education Award 2009; Ware Middle School Teacher of the Year 2009-2010; and Humanitarian Award presented by In the Game Magazine 2015. He is a past member of the Exchange Club and Kiwanis Club.
His desire to be a part of extracurricular activities would draw him to the school's athletic programs. But it was in the press box where he made an impact. He became the PA announcer for WCHS baseball, football, and band competitions. He came to realize the slightest PA comment could either stir the crowd or worse incite them. Laughingly, he admitted he's experienced both.
Currently, Flowers is the unmistakable PA voice inside Memorial Stadium for the WCHS football games. With a simple phrase over the loudspeakers, he has endeared himself to fans, "How 'bout that Gator D." He also came up with a phrase for the offense, "How 'bout the Big Green O." Adding to that he would call the names of offensive linemen who plowed the way for the running backs.
Always with a heart for kids, he has used the press box microphone as a platform for student athletes. Ed Flowers' voice has touched so many, participants, and spectators alike, making their lives richer, and the game experience more enjoyable for spectators.
Flowers concedes he has experienced both the highs and the lows of the PA trade but has been blessed with this unique opportunity. He has so many to thank who have assisted him as spotters, statisticians, with the music, and the video board. For fear of leaving even one name out, he simply says they know who they are and how much I appreciate them. This is Ed Flowers!
Ed shares that the greatest influence of his life has been God and His enduring love. He declares his wife Betty to be a gift from God, his guardian angel, his lifelong love, and the greatest influence in his life who has helped him every step of the way. Ed and Betty are the parents of Thomas II and Matthew and grandparents of Tabitha, Alexis, Justin, Cody, Chelsi, Austin, Sophia, Meagan, Ally, Bryson, and Zane.