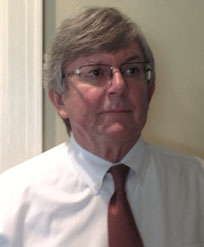 Donnie Miller
Inducted 2016
Possibly the best all-around athlete to ever play for the Waycross High Bulldogs, Donnie Miller was a multi-sport leader in the early 1960s. He made the Georgia football and golf All-State teams and was a catalyst for athletic glory on the gridiron and the links for the Bulldogs. Additionally he was a fine basketball player.
As a linebacker in the 10th grade (1961), he and his teammates earned a state championship. Starting on both sides of the ball for the rest of his high school days, Miller was the WHS Athlete of the Year Award twice, captain of the football team, All-State in golf two straight years, a medalist in the state golf tournament as a senior (his team was state runner-up), All-State and an All-Star at the annual Coaches North-South game in football and was named the Best Defensive Player of the Year in basketball under Coach J.T. Hart.
The late Earl O'Neal was his head football coach and the late Ernie Driscoll was offensive coordinator and assistant head coach. As Miller graduated, Driscoll took a post on the staff at North Carolina State University. He signed Donnie to a football scholarship where he was to play safety and flanker. But a basketball foot injury from his 12th grade season wound up cutting short his collegiate football and basketball careers.
That same year he signed a golf scholarship to East Tennessee State and in the season of 1965, he and his teammates beat the University of Tennessee twice.
The president and CEO of a consulting business in the commercial, institutional and industrial lighting markets, Miller lives in Montgomery Ala. with his wife Cathy. He has two sons, Travis and Brandon, and five grandchildren.