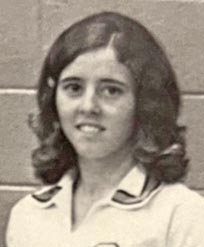 Deb Thigpen Thoma
Inducted 2022
Deb Thigpen Thomas was a dual-sport athlete at Ware County High School in the mid-1970s. Before the emergence of the mascot referenced-name Lady Gators, back in the day, her team was affectionately known as the Gatorettes.
Earning Freshmen of the Year honors, Deb simply got better and better over her high school years. A four-year starter for the varsity basketball team, Deb was a key member of the 1975 Lady Gators Region Championship team under the leadership of Girls Head Basketball Coach Frank Harrell. She attributes Coach Harrell with teaching her important basketball skills. But she admits as importantly he taught her much more about life. He just kept it simple, work to be the best on and off the court. Deb's life has proven she took that advice to heart.
Deb could dribble the basketball as fast as she could run and was the key player for moving the ball down the court. But it was her defense that caught the opposition off guard and caught the attention of opposing coaches. How good was she on defense? Good enough would be an understatement. A tenacious defensive guard with cat-like quickness, Thigpen would steal the ball in the blink of an eye. She led her team in steals and takeaways in 1974. She was one steal away from turning a game around and she often did just that. Aggressive, speedy, and scrappy, Deb set school records by logging the most steals during a season.
Calling someone with hands as quick as Deb a thief may fall a bit short. Seeing her defensive tenacity on the court, one could only ponder when and how she could guard a player so closely without fouling them. In a word, it was her quickness. But add to that her determination and a locked-in mentality. When did Thigpen begin guarding her opponent? Some suggested she picked them up the moment they stepped off their team bus. That may be a stretch, but one thing was certain, she never let up until they crossed the Ware County line heading home distraught, bewildered, and shaken.
This kind of hustle and defensive quickness earned her numerous team, region, and state honors. She led the team with the most steals in 1974. A leader on the 1974 and 1975 Region 1-AA Champion Gatorettes, Deb earned the Most Hustle Award in 1975 during a 19-3 season. The region took note of her ability naming her to the 1975 All-Tournament team.
Not surprisingly, she earned Most Valuable Player honors and was named to more than one All-Tournament Basketball team over her career.
Her athletic success in basketball was matched by her skill, determination, and speed on the high school track team. A member of the 1973 track team, Deb won races in region and area competitions and earned state honors at state in the 75 Yard dash. She was named Ware's 1973 Most Valuable Track Performer. Her honors continued to roll in as she was runner-up for Athlete of the Year.
Deb took her schoolwork as seriously as her athletic participation. When asked which of her accomplishments she treasured most this amazing athlete said she treasured her Academic Athlete Award more than any. Why? She admitted playing was in many ways the easy part! But for Deb coming home after a long practice or late game, and studying late into the night took perseverance.
Deb transitioned from the classroom to a career with the US Postal Service where she retired as Postmaster. Her spare time is spent in her church, riding horses, participating in rodeo events, and spending time with her family. On this night of celebration, she remembers her late husband Franklin Thomas, and her parents Joe and Robbie Thigpen all looking down on her from heaven. Deb has one brother David.