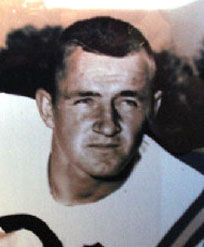 Darrell Page
Inducted 2006
As a muti-talented athlete in high school, Darrell played football and basketball four years, baseball three years and tennis two years.
Although an outstanding tennis player, Darrell is best remembered as the starting quarterback for the 1959 and 1960 Waycross Bulldogs. The '59 teams had an 8-3 record. They lost in the playoffs 13-6 to Jesup High School who went on to win the state championship in AA that year. That Yellow Jacket team included future NFL players Len Hauss and Ray Ogden.
The 1960 squad became the first undefeated team in Waycross history going 13-0 and winning the state AA championship. That team is considered by most fans as the best Bulldog football team ever. They led the nation in scoring with 525 points. All three playoff games were on the road and were won by scores of 20-6 over Bainbridge, 33-0 over Westminister and 49-0 over Gainesville. Darrell was chosen All State and was an honorable mention All American in 1960.
He was selected the starting quarterback for the South All Stars his senior year and they beat the North All Stars 24-6 in Atlanta.
He earned a football scholarship to Virginia Tech and had an outstanding college career. He earned three letters in football and was chosen Tri-Captain of the 1964 team.
Darrell also won two letters as a member of the Virginia Tech tennis squad.
After graduating from Virginia Tech, he was a student coach there before being commissioned a 2nd Lieutenant and serving in Vietnam in 1968-69 where he earned a bronze star medal. After Vietnam, he was a high school coach in North Carolina in 1971-1972. Following his coaching days, he became an administrator in the State Community College System and was the president of Bladen Community College before retiring.
Darrell is married to Kathy Murdock Page and they have three children.