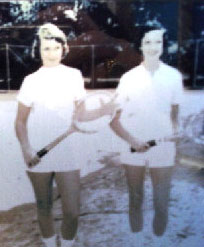 Dale Odum Barrow & Ann Quaterman Harrington
Inducted 2007
Tennis luminaries of the first magnitude, Dale Odum Barrow and Ann Quarterman Harrington are the first duo inducted into the Sports Hall of Fame.
All other inductees have been on an individual basis but these two have excelled as a pair to such an extent that it would have been a travesty to select one and not the other for recognition.
They established a Georgia High School record by winning the state Class A doubles championship three consecutive years from 1954 thought 1956. As far as is known locally, that record has not been broken in the since.
The formidable twosome never lost a doubles match throughout high school. The year 1957, saw them win the Waycross City Doubles Championship and also the Georgia Recreational Society Tennis Tournament in Savannah, Georgia.
Some of their phenomenal success can be ascribed to their mentor who was the legendary Waycross High tennis coach Melba Williams. Melba was inducted in the local hall of fame in 1995.
Blessed with athletic talent, they also were three year starters for the Waycross High School Bulldogettes. Ann was a forward and Dale was a guard for their basketball coach, Herb Reeves, who is also a member of the hall of fame.
Their skill and determination have continued to manifest itself in their personal lives.
Ann has been living in North Carolina many years. She was active in politics serving in the North Carolina State Legislature and as a lobbyist for a well know law firm prior to retirement.
Dale retired after teaching K-6 physical education for 25 years in North Carolina. She now owns a jewelry business.
It would seem that our loss was North Carolina's gain.
Ann is married to James Harrington and Dale's husband is Gene Barrow.