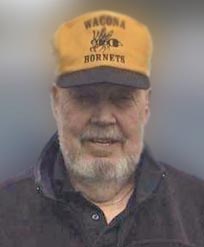 Curtis Bryson
Inducted 2020
It's hard to achieve all-state status as a Georgia high school athlete – always has been and probably always will be. There is little room at the top, as they say, and it is reserved for the best of the best.
One Wacona sports legend accomplished the feat in two different sports in the 1950s when the school included high school grades.
Curtis Bryson — the "Big Hornet" — was a hot-hitting shortstop for the Class C school in 1956 as he led Wacona to the Final Four in the state baseball playoffs. That same sophomore year, Bryson was selected honorable mention all-state in football by the Atlanta Journal-Constitution. The publication would bestow to him the same honor the following year when he was a junior. As a senior, the standout lineman earned the newspaper's full-fledged first-team all-state Class C football status.
At Wacona, Bryson played all the team sports that were offered and he played them well. He earned fourteen letters total over his four-year career: four in football, four in baseball, three in basketball and three in track.
Big and burly at 240 pounds — quite a behemoth for Class C ball in the 1950s era — he was a force on both sides of the line of scrimmage. On defense, Bryson was double- or triple-teamed routinely. When the Hornets had the ball, defenders dreaded being in his path after the big end received a pass or built a head of steam running the Statue of Liberty play, a specialty of his.
The late Paul Robinson, Waycross Journal-Herald sports editor in the 1950s, coined the "Big Hornet" description. He also called Bryson "Goliath" on the basketball court. When it was time to crash the boards, he had few peers.
Coach Billy Henderson invited Bryson for a tryout at the University of South Carolina. He and other college football recruiters were disappointed when Bryson chose to enlist in the U.S. Army to serve his country.
After being honorably discharged, Bryson lived in Fernandina Beach, FL, working a career at Rayonier. In retirement, he and his wife Pat live in Blackshear and enjoy a place on the river in Brantley County as well.