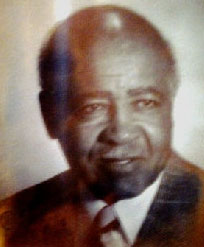 Clyde Parker
Inducted 1993
Living on the corner of Emma and Butler (MLK Drive) Streets adjacent to Center High School as a small boy, he gravitated to the football practices where the older boys taught him the fundamentals of the game early on.
He played for Coach Lawton Williams in 1939 and 1940 and for Coach Major Powell in 1941 and 1942. He ran, passed and kicked out of a short punt formation (now called the shot gun) and the modified single wing formation.
The undefeated 1940 team was considered one of the greatest in Center High history. Defensively, they allowed no one to score on them and beat Bainbridge 7-0 for the State Championship. The 1941 team also finished undefeated and the 1942 team only had one lost. That loss can be attributed to the fact that Coach Powell benched nine starters for violating his curfew rules.
With three sisters and a brother still in school, the death of his father just before his graduation forced him to decline four athletic scholarships to college.
Because of the draft (World Ware II) there was no one to coach at Center High in 1944 and he was persuaded to coach football and basketball in 1944 and 1945. His five game record was three wins and two loses. After reading a book by Notre Dame Coach Frank Leahy, he converted to the T-formation in 1945. He also borrowed some of Florida A&M's pass patterns and trick plays and integrated them into his play book. That year the Tigers scored over 500 points offensively and did not allow any team to score on them. They beat Thomasville 28-0 to win the State Championship.
Parker was awarded a full scholarship to Morris Brown College in Atlanta and played football there in 1946 and 1947 before leaving for personal considerations.
While back in Waycross, Principal J.C. Reese prevailed upon him to coach at Center High School again in 1948. That season the Tigers were undefeated, although tied by Stanton High 0-0, and they won the Pine Bowl Classic 35-0 over Quitman.
In 1949 he left the coaching ranks leaving behind one of the most enviable records, as both a player and coach, in the history of Center High School.