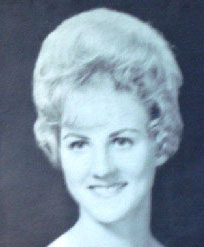 Charlotte Kendircik Mosley
Inducted 1990
She was a high scoring forward for Coach Benny James' Manor High girls 1962 through 1965 and one of the most outstanding women basketball players in Ware County. As a sophomore, she average over 32 points per game, over 36 as a junior and closed out her high school career with an average exceeding 30 points over a 61 game span. Her greatest production was 57 points in only three quarters against Homerville during her junior season followed closely by a 48 point effort against Waycross as a senior. She was team co-captain as a sophomore, junior and captain her senior year. During her high school days, Charlotte's honors included Manor's Most Valuable Player and Best All-Around in 1964, Most Valuable Girl Athlete in 1965 and the WAYX –radio Most Valuable Player in Southeast Georgia in 1965.
While still a student, she coached the Gilchrist Park Midget and junior girls recreational department team and won multiple championships. Charlotte coached Waycross Junior League all-stars and placed second in the state recreation tournament.
She attended Nashville Business College on scholarship and led her team to the National AAU Championship. They won the tournament in Gallup, N.M. after which she rejected offers from three professional women's teams as well as an offer to tour Europe as an Olympic team member.
While making her home in Jesup, Georgia, she organized the Wayne County Junior ROTC 21st Parents' Support Group in 1988 and served as its first president.
She and husband Jerry have a son Jey and a daughter Jereese.