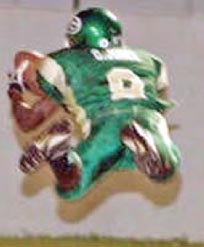 Cedric Jones
Inducted 2019
High school football in Waycross dates back to 1910. The forward pass has been in and out of vogue between 1910 and 2019. But suffice it to say there have been some accomplished pass catchers to come out of Waycross-Ware. And they all made catches of varying degrees of difficulty.
Cedric Jones, though, stands out from the others. As good as their catches might have been, he has a name.
The signature reception that he is remembered by is known in Memorial Stadium history as "THE CATCH."
It came as Jones and the Ware County Gators played Baldwin in the 2004 playoff s … and the chips were on the line that night for Dan Ragle's Gators. Without THE CATCH Jones made in the end zone Ware might still have beaten the Baldwin Braves (it was a 31-13 game in Round 2). But Jones recalls it being a critical TD at the time.
It was into the southeastern end zone in Memorial Stadium that Victor Daniels threw it … wide and long, or so everyone, including Jones, thought. But Jones decided to make an all-out try, racing and then extending his full length four feet off the ground…and he caught it! Somehow! Cradling the ball in his fingertips, he controlled it as he crashed to the ground.
Two weeks later in the semifinals, Ware's playoff runs ended in the Georgia Dome with a 40-0 loss to eventual champion Warner Robins. Cedric Jones did not play in that game as he had a severe high ankle sprain.
But whether or not "THE CATCH" he made on that November night in 2004 was the best in his life, Jones certainly made some great receptions in high school, college ball… even in the Arena League.
He was honorable mention All-State at wide receiver his 11th-grade year and he made first-team All-State as a senior but at cornerback. Jones also was an accomplished athlete playing basketball, soccer, and track at Ware.
He made All-Gulf South Conference for four years with the Valdosta State Blazers. He was Division II All-American and one of the key pieces in their national championship season his sophomore year. He set many Valdosta State receiving records. He was the Freshman of Year in the Gulf South on an 8-3 team that missed the playoff s. The following season, however, the Blazers won it all … Division II champs.
In all, he had 282 receptions for 3,177 yards and 21 TDs in college.
Jones pursued an NFL career, but a herniated disc in his neck scuttled his plans before the combine. He then turned to the Arena League with an aim to build a resume and make it yet to the NFL. But, again, he injured his neck and was advised to play no more football.
Today, 33-year-old Cedric Jones works in sales at Mays-Munroe in Tallahassee, Fla., where he has lived for the last five years.