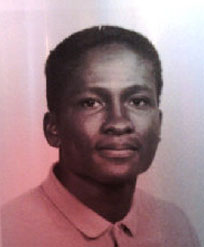 Bruce McDaniel
Inducted 1990
Bruce is a Waycross High School graduate of 1974. He won the state high jump championship which brought him state wide recognition and later world wide recognition as a trackman and high jumper.
He attended Albany State College on scholarship and further developed his high jumping abilities becoming the first seven foot jumper in the Southern Intercollegiate Athletic Conference holding a record of 7'1/4" through 1978. During his college career, he competed throughout the United States and tied for first place in the NCAA Division 1 Track and Field Championship held in McComb, Ill., with a jump of 7'3/8". He was a NCAA representative in Mexico in June of 1978 and jumped 7'3" and jumped 7'2", in the Muhammed Ali Invitation Track Meet in Long Beach in 1979, 7'1", The Catholic Youth Organization National Track Meet in College Park and the Auburn Indoor Invitational in 1979, 7'3". His best recorded leaps were 7'4" and 7'43/4" at the National Sports Festival in Colorado Springs. One of his most exciting meets was in Fort Worth in 1979 where the United States National Team competed against Russia in the USSR vs USA Track meet. Bruce placed third with a jump of 7'1 ½". Following the inherent excitement of the USSR vs USA meet, the pendulum swung to the other extreme. Bruce was chosen as a member of the 1980 Olympic Team and was a victim of the Presidential boycott order. McDaniel is the father of James Bruce III and Christine.
His parents are James and Suzanne McDaniel.