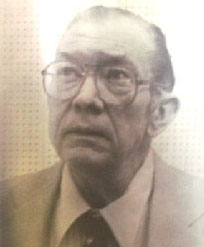 Braxton (Brack) Creel
Inducted 1993
He was a longtime sports figure and athlete, noted for his versatility and longevity, as well as his love for the game.
Living his entire life as a superior sportsman and athlete, Brack Creel especially stood out on the diamond.
A talented baseball and softball player, he turned down a professional baseball offer from the St. Louis Cardinals because of World War II. As was the patriotic norm, talented ballplayers, including Brack, traded baseball uniform for military uniforms. He served in the Pacific with the Navy earning battle decorations.
While in the Navy, during shore duty after the war, he was an outstanding semi-pro outfielder. He also played on service league teams at his duty stations. He became know as "The Georgia Peach."
His longevity was astounding. He played until late in life. He played with Rich Pudina's semi-pro Waycross Expos until he was in his 60's, playing first base and pinch hitting.
Brack's love for baseball has rubbed off on generations of younger proteges that he has tutored, coached and encouraged. He has also been a promoter of other organized sports for youngsters, coaching youth basketball and football.
For many years, he was a high school football, basketball and baseball official in the Waycross area. His refereeing days would have continued if not for heart trouble that he developed several years before he passed away.
Brack was connected with the Waycross sporting scenes in many other facets,, including broadcasting. He has served as a radio play by play man, covering high school sporting events.
There has never been a more enthusiastic Braves or Georgia Bulldog fan than Brack Creel. He was truly an inspiration who rightly deserves enshrined in the Waycross Ware County Sports Hall of Fame.