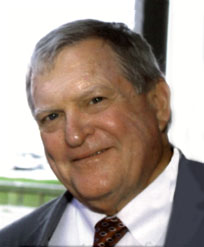 Bobby Smith
Inducted 2014
Bobby Smith grew up in Waycross, a product of the City Rec Department under Mickey and Berta Katkaveck and a football, basketball and track athlete at Waycross High. The starting noseguard on two Bulldog state championship teams (1960 and 1961), he was rst team All-State in 1961.
On scholarship at North Carolina State University, he was a member of three ACC championship teams, starting at noseguard in 1964 and 1965. He graduated third in his engineering class in 1966, then attended the University of Georgia Law School, graduating in 1969. He has practiced law in Jesup for 45 years. He has been City Attorney in Jesup for 30 years, the Wayne County Attorney for 19 years, and the Wayne Hospital Authority Attorney for 37 years.
Bobby has been a high school football referee, a midget football league team head coach (going undefeated for seven straight seasons) and has been active in the Georgia Bulldog Club, earning the Dan Magill Award for loyalty, dedication and commitment to UGA athletics. He served three terms as president of the Wayne County Touchdown Club.
Bobby has been president of most of the civic clubs in Wayne County and served on the boards of various organizations. He now is chairman of the board of First Southern Bank.
He's taught an adult Sunday School class at Jesup First Methodist Church for 42 years and has served as chairman of the church's board of trustees for 14 years straight.
He and wife Peggy have four children (three of whom played college athletics) and three grandchildren.