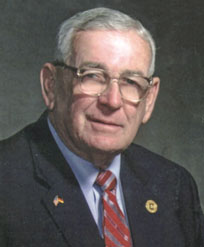 Bill Schupp
Inducted 2014
Bill Schupp was one well-rounded athlete at Wacona High School more than a half century ago. Twice a state champion in track and eld, Schupp lettered in all the sports the school had to offer – football, basketball, baseball and track – and accrued 13 letters by the time he graduated in 1958. He earned four letters each in football, basketball and track and one in baseball.
He was the state Class B half-mile sprint champion during his junior and senior seasons. He finished second when he was a sophomore. He also threw the discus and won the region championship in that event when he was a sophomore.
Schupp played nearly every position on the winning Wacona football team, including end, tackle, center and quarterback. He was honorable mention All-State his senior season.
As a regular starter on the varsity basketball team all four years of high school, he often led the team in scoring.
Schupp went on to greatness at The Citadel where he was a track and football standout.