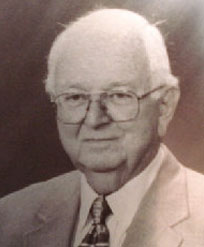 Bennie Evans
Inducted 2002
Bennie was in the class of 1949 at Waycross High School and earned accolades in both football and baseball. During the 1948 football season he was credited with the longest touchdown run from scrimmage. It was an electrifying scamper of 82 yards against the Moultrie Packers. He was also involved in the longest scoring pass of that year. Bennie was on the receiving end of an 85 yard completion that resulted in a touchdown.
Bennie had a penchant for long plays in baseball too. Many were the times he blasted prodigious home runs or triples. He was a power hitter throughout his playing days. Those years included American Legion baseball for Mr. Hebert Bradshaw, Sr., High school ball for the Bulldogs, service ball while in the U.S. Navy and semi-pro ball afterwards. While people marveled at his hitting, he was also a skilled defensive performer. You don't play short stop unless you have range and fielding ability. Bennie was graceful in the field and made the hard plays look easy.
His love of athletics led him to officiating and he was a basketball referee for high school and midget league games for several years.
Bennie retired as the Superintendent of the local Georgia Natural Gas Office after forty plus years of service. He was married to the former Monette Davis. He was the son of the late Myrtle Lee Evans and the late Gonder Evans. He had two daughters.