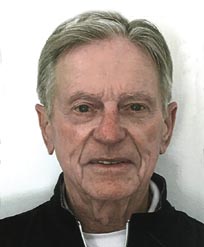 Al Tyre
Inducted 2020
Not many, if any, of the ace golfers who have called Waycross their hometown can compare resumes with Al Tyre, who led the Bulldogs of Waycross High School and then of the University of Georgia to glory on the links more than a half-century ago.
Consider his ledger:
1962 – Al Tyre led Waycross High to the Class AA state golf championship
while finishing his round one shot off the pace of medalist Bert
Greene (…yes, that Bert Greene).
1963 – He led Waycross to second place at the state golf tournament.
Again he was the runner-up in individual scoring, this time by
two strokes.
1964 – He led the Waycross Bulldogs to another state championship by carding the best
score among Class AA competitors. He then signed with UGA, spurning Georgia Tech,
Florida, Austin Peay and East Tennessee State.
In Athens, success continued;
1965 – Tyre was the ace of the Georgia freshman team.
1966 – He helped the Bulldogs to a second-place finish in the Southern Intercollegiate
Championship (the field included 20 of the best college teams in America).
1967 – Tyre and UGA finished third in the SEC Championship in Baton Rouge.
1968 – Al Tyre was the Most Valuable Player and team co-captain as a senior at Georgia.
His solo career — amateur and professional — is checkered as well with victories and major highlights.
As a teen, he won the Georgia State Jaycee Championship (a forerunner of what today is the Georgia Junior Invitational). The year prior, the 15-year-old Tyre finished in fourth place in the event. Working the state amateur invitational circuit during his college semester, in 1967, he championed the Ramsey Piedcock Invitational in Moultrie. A big accomplishment was winning the Okefenokee Invitational, and Tyre claimed that title in his hometown of Waycross in 1967 as well.
He segued from four years of advanced ROTC to serve in the U.S. Army as a second lieutenant, then returned to Waycross in 1971 and won the Okefenokee Invitational over defending champion Boog Layton. That same summer, he teamed up with fellow -Waycrossan Johnny Smith to finish second in the Georgia State Four-Ball Championship in Tifton.
Tyre flirted with professional golf in 1972. He competed on the mini tour in Florida and averaged below par, playing with other young bucks like Tom Kite, Calvin Peete, Andy North, and Gary McCord. At PGA Tour regional qualifying, Al Tyre missed by five strokes proceeding to the final qualifying round.
Al is married to the former Kathy Lott of Waycross. Their daughters, Marty and Stacy, have given them seven beautiful grandchildren ages 8-19. Kathy and Al split their time between Peachtree City and Amelia Island, FL.
Professionally, Al enjoyed a stellar career in the lighting industry as an executive with Acuity
Brands.