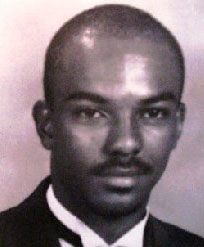 Victor Daniels
Inducted 2005
Victor had the distinction of being a starter for three consecutive years on both the football and basketball teams at Waycross High School. A terrific wingback for Dale Williams 1982-83-84 squads and a spectacular point guard for John Pike in 1982-83, for Cass Cassell in 1983-84, and E.B. Price in 1984-85. He was a stalwart on the Waycross basketball team that won 28 consecutive games in 1984-85. The state class AA runner-up that year they were 28-1 losing only to Central Carrollton in the state championship game.
Victor was just as exciting on the gridiron as he was on the basketball court. Possibly even more so, as he more space on the football field to display his speed and elusiveness.
In 1982, he had a 62 yard touchdown run against Valdosta and in a game against Berrien County, after two straight 15-yard penalties made it on a third down and 45 yards to go, he caught a screen pass and raced 85 yards to score.
The Bulldogs went to the playoffs both his junior and senior years. At his best against Valdosta, Victor had a 41 yard touchdown in the 1984 game.
Although a wet field was detrimental to Victor's speed and elusive style he still had his moments. Playing in a storm preceding a hurricane, he dashed 63 yards for the only score in a 9-8 loss to Bacon County. And in his final high school football game, a quarterfinal playoff game in Forsyth, played in a driving rainstorm, Victor had a 34 yard touchdown run in the loss to Mary Persons.
He was a valued member of the late Leroy Herring's track teams in the middle 1980s. Victor excelled in the long jump but was also very competitive in the 100 year dash and a vital member of the 440 yard relay team.
Victor was very active coaching in the Recreation Department and a son, Victor Junior, was outstanding for Coach Dan Ragle as a Ware County Gator.