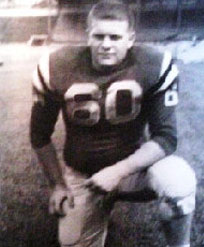 Melton Callahan
Inducted 2005
Both of Melton's high school coaches (Dub Kendrick and Earl O'Neal) are in the Hall of Fame. Certainly, his football skills and exploits were contributory to their inductions into the Hall of Fame.
He lettered for three years at WHS. Melton won a starting spot on the 1959 team where he was a two-way performer at tackle. That team logged an 8-3 record. They lost in the playoffs to Jesup 13-6 as the Yellow Jackets went on to win the state class AA title.
The following year he moved to offensive guard and was the catalyst of an offensive line that allowed Waycross to lead the nation in scoring with 525 points in 13 games. In tough, short-yardage situations, you could count on Marvin Hurst or Darrell Page running behind Melton at right guard even through most opponents knew what was coming. In crucial game, he also came in for goal-line defense when the game was on the line.
That 1960 team was the first Waycross eleven to go undefeated as they finished 13-0 and won the state AA championship. Their trio of victories in the playoffs was awesome. They beat Bainbridge 20-6, Westminster 33-0 and Gainesville 49-0 and all of them were on the road.
Melton was All-Region, All-State and All-American his senior year in 1960. He lettered three years in track participating in the shot put and discus.
Also, a three year letterman in basketball, he was the team MVP as he average 12 points and nine rebounds as a senior.
Melton earned a scholarship to the:University of Florida where he lettered for two years. Two his greatest memories were beating a Joe Namath led Alabama squad in Tuscaloosa in 1963 and blocking for Steve Spurrier in 1965 when Spurrier won the Heisman Trophy.
He coached at West Palm Beach, Jacksonville, Waycross and Brantley County. Later he served as principal at Brantley County and Colquitt County High Schools where he instituted many innovative procedures. In 1999, he received the "Outstanding Educator of the Year" award.
Melton is married to the former Kay Lightsey and they have three sons, Michael, Paul and Nathan.