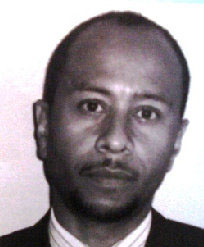 Alvin Nelson
Inducted 2005
Many awards and trophies attest to the commitment Alvin Nelson had as a track performer in high school, college and afterwards.
He was a member of the Waycross High School track team in 1979, 1980 and 1981. Leroy Herring was his coach and mentor. His area superiority was such that he never lost a 1-mile or 2-mile event at home.
Alvin's incredible stamina allowed him to participate in the 440 relay, 1-mile, 2-mile and 1-mile relay at each track meet. In his three years at the state meet he never placed lower that sixth in the 1-mile, and 2-mile runs. As a senior in 1981, he won the GHSA state championship trophy for the 1-mile event.
Respect for his leadership qualities led his teammates to choose him co-captain as a junior and captain as a senior.
He also competed in cross country at WHS. Alvin was the Region 1-AAA champion in 1980 and 1981 and qualified to compete in the Georgia High School State Championship meet all three years. In 1981 he finished 4th in the All-Classification Championships and qualified to compete in the Cross Country Nationals.
Alvin is the record holder in three track events at Waycross HS; the 1-mile run (4:19), 2-mile cross country (8:52) and the 3-mile cross country (15:50). His Waycross record in the 3-Mile cross country is also a Region 1-AAA record.
He was Rookie of the Year on the Albany State College track team in 1982 and was a member of their 2-mile relay team which won the 1982 SIAC Championship.
Alvin is a 3-Time Pogo 5k winner, 9-time Okefenokee Swamp Run winner, and the winner of Georgia's largest 5k run in Macon against approximately 1500 runners. He was ranked the Number 1 – 5k Road Racer in Georgia from 1991-1995. A volunteer track coach for boys and girls at Waycross Middle School. He has also coached the varsity track team at Ware County High School.
He was honored in 1994 when the Ware County Special Olympics named him Grand Marshall that year.